Joined

Jun 12, 2012
Messages

2,715
Reaction score

25
Location
We are in the middle of calving right now, and I knew I had one close last night. She has been slimming for days, and really cut lose last night with the junk.
Had my dughter check her when she got home from school, and we have a new heifer calf! Side note, this is Cookie, who was 4 in May, and this is her 4th calf. She breeds back early, AI each time. This is a Cowboy Cut calf, we have a nice chrome heifer my daughter showed this year out of Declaration. She has had an Uno Mas bull, Pays to Dream bull, Declaration and now this Cowboy Cut.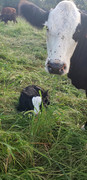 Then this... ugh. This cow was 283 days today, with an embryo implant. The embryo was purchased from the Circle M dispersale sale, and is a Wheelman x Crocus. I came home to find the cow licking a calf that had already stood and sucked (obviously my daughter missed it). When I walked around to the back of the cow, there was a set of feet hanging out. Remember, this was an embryo... twins are very unusual. I fished around, and the head of the calf was behind the pelvis and out of reach. I know when I can not get the calf right, so a call to the vet who was just in the next town over. He got there in less than 30 minutes, and took him about 15 minutes to get the calf right and get it out, but it was dead.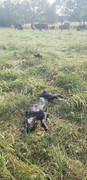 I will weight them tomorrow, but I bet both are 70 pounds at least, closer to 75.
If you look close at that picture, you can see the live twin laying in the grass behind the dead one.
So three calves, two alive. I guess I should feel lucky we got a live twin, but I am just bummed at loosing one. We have put in lots of embryos, and only had one other set split and they ended up dead. It is not something we ever expect....