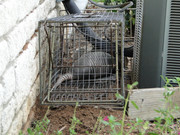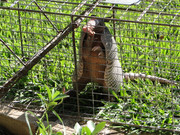 armadillo has been tearing the yard up for a few days. we moved the trap over a hole he had dug under the air conditioner, and he walked right in last night. this cute little fella has now been relocated (re-homed).
guess they are good for grub control, but do too much damage to be welcome here. they dig holes that could do damage to a leg of a cow or horse and their holes at terraces cause erosion.
heard a story that went something like this: a guy shot at an armadillo and the bullet ricocheted off and hit a shed, then the bullet ricocheted off the shed and hit his trailer house going through the side of the trailer house and through the back of the chair where his mother in law was sitting.