THE SEMINOLE TRIBE OF FLORIDA IS COMMITTED TO BUILDING A BRAND
by: Belinda Hood Ary
We have all enjoyed a good western. Who hasn't spent the day watching the John Wayne movie marathons or even more recently, Robert Duvall and Tommy Lee Jones in Lonesome Dove, battling the elements and the Indians to acquire more rangeland for their herds? The history of the American rancher moving west has been chronicled time and time again through movies, books and television. In those accounts, all the action was out west, and the cowboys usually came out on top.
But, the modern day version of that story is very different, as demonstrated at a recent media day event hosted by the Seminole Tribe of Florida on their Brighton reservation. Today, the "Original Cowboys," the Seminole Tribe, are making their mark in the cattle industry, not only in the state of Florida, but in the Southeast and across the country.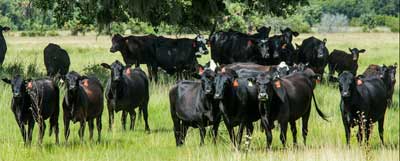 These Brangus cross cows on the Seminole Tribe's Brighton reservation are part of the herd that numbers over 14,000.
History tells us that the first cattle to enter the United States were introduced into Florida by Spanish explorers in the 1500s, and the Seminole Tribe has been caring for the land and raising cattle there since 1521. According to Willie Johns, Seminole Tribe historian, in those early years the Seminole chiefs bartered with the Spanish and built quality herds that they have maintained for over 500 years. Even after Andrew Jackson signed the Indian Removal Act in 1830 and the Seminole Wars raged for almost 50 years, the Seminole Tribe still put top priority on their cattle herds. "Cattle are very important to our people," said Alex Johns, natural resource director for the Seminole Tribe. "We have been in the cattle business for over 500 years…it has made us what we are today."
Over the years, the Florida beef industry has taken a bad wrap. Despite the fact that four out of the top 10 largest cow-calf producers in the nation are in Florida (including Deseret Ranch which is the largest), there has always been the misconception that Florida cattle would not meet the quality demands of today's beef marketing system. Another problem, there was no way to really combat this misconception since the nearly 800,000 head of cattle that leave the Sunshine State and head west to feedlots quickly lose their identity and are never really identified as "Florida cattle."
The Seminole Tribe of Florida has made it their mission to change those misconceptions. The result of those efforts is the Seminole Pride Beef brand that was launched just over a year ago. Johns said that critics have said the infrastructure is just not in Florida to feed cattle. "We are trying to prove them wrong..," he added.
The Seminole Pride Beef program has been in the works for over nine years and was carefully planned out by Johns and the Tribal council. After years of planning, it was launched in June of last year as a program to help market some of the calves that are born from the nearly 14,000 cows that tribal members own. "We launched it and it went over like hot cakes," Johns says. The tribe couldn't meet the demand with just their own cattle, so it was opened up to local ranches whose cattle met the quality specifications of Seminole Pride. It was also important to the tribe to make this a Florida program, so the Seminole Pride Beef is marketed as "Fresh from Florida," meaning the cattle must be born, raised, fed and harvested in the state.
Enter Don Quincey, with Quincey Cattle Co. in Chiefland, Fla. The tribe established a partnership with Quincey to begin feeding their cattle in the state. "If you had asked me five years ago if we would be able to feed cattle in Florida, I would have said, 'heck no'," Quincey said. "But a lot has changed." Up until recently, there was nowhere in the state to slaughter fat cattle and there were no local corn growers in the state. But that landscape has changed. Corn is now being produced in Northern Florida, which has reduced the cost of feed, and a packing plant in Center Hill, Fla. made the move from processing cows to fat cattle.
"We didn't have a packer that would kill fat cattle in Florida," Quincey explained. Central Beef Industries in Center Hill, specialized in processing cows for more than 50 years, but moved into processing fat cattle about 1.5 years ago. "Then all of the sudden our three-legged stool started to make a little more sense. We had our packer, we had local corn. The third leg of the stool is energy costs, which doesn't seem to be going down either," he added. Quincey estimates it costs between $60-$80 per head to ship weaned calves west to feedlots in Kansas and Texas. It looks likes Quincey's formula is working well for the Seminole Tribe. A recent group of Seminole Tribe calves that were fed at Quincy's feedlot gained 3.6 lbs./day. Steers graded 81 percent Choice or better, heifers graded 83 percent Choice or better. Last year they marketed 3,000 head, this year they are on course to feed out 8,000 head and Quincey believes they will be at 15,000 head in just a few years.
Obviously, the Seminole Tribe puts an emphasis on quality in everything they do. Once they launched their branded beef product it became important to make sure the genetics of the herd were top notch. "We knew if we have a good product to feed our children, we have a good product to share with others," Johns said. "We just need to do a better job of raising cattle and upgrading our genetics. We found out quickly that Brangus genetics work very well for us."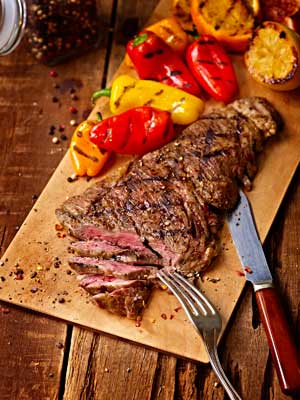 Seminole Pride Beef is being distributed to over 100 Florida restaurants.
So it wasn't surprising in the fall of 2013 when one of the premier Brangus herds in the country, Salacoa Valley Farms in Fairmount, Ga., announced their complete dispersal, the Tribe jumped at the chance to purchase the entire herd and the genetics to enhance their branded beef program. According to general manager Chris Heptinstall, Salacoa Valley's primary purpose is to produce the bulls needed to add uniformity to the Tribe's herd and add value to their branded beef product. Right now the Seminole Pride branded beef is being marketed and distributed to over 100 Florida restaurants by Cheney Brothers, who has been swamped with orders from chefs across the state. Eventually they plan to market their product to restaurants outside of Florida and in supermarkets, as well.
The quest for excellence and developing quality is what has made the Seminole Tribe successful in all of their business ventures. When you look at all of the Seminole Pride branded agriculture based product lines which include not only beef, but seafood, fresh citrus, spring water, wine and juices, it is easy to see that they are committed to building a brand. According to Seminole Brand Development COO, John Dembeck, their goal is to tell a story with their products. "We are building a brand that people associate with quality and a good eating experience," he said. "We are a family company who has always been appreciative of the air, land and water," he added. "Sustainability is the heritage of the Tribe."
---
Don't forget to BOOKMARK
Cattle Today Online!