We have our spring calving group at our other farm about 3 miles away. I went to check on them Saturday, and found a first calf heifer, what I thought, dead! Saw her from the road, belly up. I jumped the fence and ran over to her, and found her with her eyes rolled to the back of her head on her head arched all the way back. She blinked, and I knew I had to act fast. I rolled her up on her side (she was perched downhill), and saw a calf behind her. We do not use a bull, so I know when our cattle are due! Her due date was 2/8 (AI bred on 4/29, 285 day gestation). I finally get her on her feet, but she stumbles and falls. I noticed parts of a second calf hanging out of her, so I run my arm in her looking for a second calf, but could not find anything. The second calf is very small, and only seems to have a head and intestines (inside out calf was my first thought).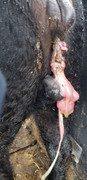 I call my vet, who of course, is out of town! Call my daughter to hook up the truck and trailer and leave my son with the heifer and calf (who has a VERY swollen face) to drive home to get the trailer. Thankfully, our girls are all halter broke, so we slip a halter on her, put her calf in a wheelbarrow, and walk them to the trailer and bring them home. Heifer is very weak and wobbly. My vet calls me, because he recognized my number. Advises getting her in the chute at home and palp her for the second calf, give dex for swelling on the heifer, IV, and tube calf with colostrum (and give him dex for the swelling, sq). I glove up, and follow the string of intestines back inside to the placenta, but can not feel any other structures inside.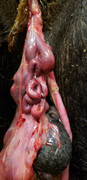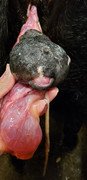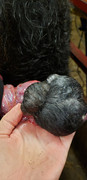 Vet calls me back, and after looking at my records thinks these are two calves from two different pregnancies! He said in his career, he has only seen that twice before (he is in his late 50's). She was AI'd on 3/13, came back in heat 19 days later, 4/1, so she had an embryo implanted. 28 days later she came back in standing heat, so we AI'd her assuming she slipped the embryo (she cycled like clockwork betweek 18 and 19 days). Going off the last AI date, and her last standing heat, she would have been due 2/8. If she stuck the embryo, her due date would have been 1/9. The live calf she had is 88 pounds, so full term and no way due 2/8. I will have to DNA the calf to verify sire, but you have to admit this is extremely interesting. We saved the second, dead and partial calf for our vet to exam when he gets back in town on Monday. We have an apt today at 1:30, since she has not passed her placenta and I have a few other things I need him to do (bull BSE, ultrasound a few females...).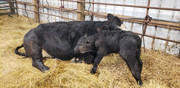 Both have good appetites also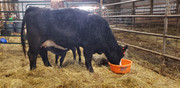 It could be amorphus globosus, but that would mean the embryo split, which is also very rare. I'll post again when the vet is done.