Rancher

Posts: 546
Joined: Thu Oct 20, 2005 4:49 pm
Location: Montague County, TX
Been thanked: 11 times
Anyone have a favorite brand/model? or one to definitely avoid??

Thanks!
---
---
Mentor

Posts: 15064
Joined: Sat Dec 13, 2008 9:37 pm
Location: Lillooet, BC, Canada
Has thanked: 814 times
Been thanked: 621 times
I have an allflex 2cc.. works alright
[url=
https://postimages.org/
]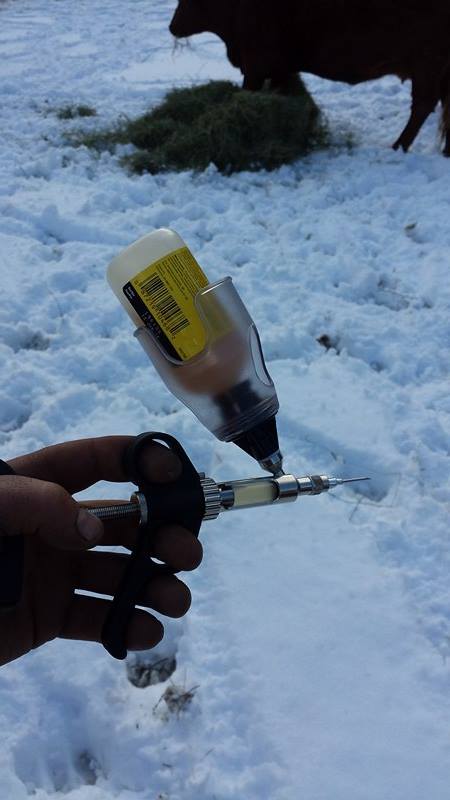 What can be asserted without evidence can be dismissed without evidence
-Christopher Hitchens
---
Rancher

Posts: 789
Joined: Sun Feb 11, 2018 12:11 am
Location: TX
Has thanked: 51 times
Been thanked: 131 times
I've been doing some looking at these the last few days too. Looks like Allflex and nj phillips are the two brands most like. The less expensive ideal brand seems to only last a working or two. Might be one of those deals were you get what you pay for. Hard to pay $75 for one when the other brand is $25 though.
---
Trail Boss

Posts: 389
Joined: Fri Feb 09, 2018 5:53 pm
Location: Kansas
Has thanked: 44 times
Been thanked: 85 times
---
GURU

Posts: 1451
Joined: Sat Mar 25, 2017 5:16 am
Location: ne oklahoma
Has thanked: 584 times
Been thanked: 240 times
We like the allflex , ours are adjustable to 5cc, one with the bottle holder, and one barrel type, I would definitely reccomend the bottle holder type for those of us who have arthritic symptoms. Money well spent imo.
Being poor is the most expensive thing there is
---
GURU

Posts: 1804
Joined: Wed Nov 25, 2015 11:46 am
Location: Piedmont of SC
Has thanked: 188 times
Been thanked: 396 times
Some of the cheap ones are inaccurate. Even the mostly metal ones. Had an import one from maybe Germany. It was not cheap. The drive cog wore out in a few years to administer the vaccine. Alflex is dependable and accurate and you can get replacement barrels O rings, ...
---
Cowhand

Posts: 136
Joined: Mon Jan 21, 2019 7:03 pm
Location: Kansas
Has thanked: 55 times
Been thanked: 62 times
Allflex here. I have one 50cc and one of the bottle holder 5cc. I like both. Just be sure to put some lube on the orings after you sanitize them after use. (or buy lots of replacements to have on hand). Repeaters are lifesavers for me. My farm help is whatever family members happen to be around, and it's much easier to say, "inject here, and just squeeze until it stops" rather than, "see this 3 line? don't go past it!".
---