Thought since a picture is worth a thousand words, maybe we need a collection of pics for the newbies.
If anyone else has any good photos of pics that you want to share --
and you know what the problem is
-- feel free to post. (Or, if you'll PM/email them to me, I'll put them in this post under a catagory.)
Don't

post pics that you don't know what's wrong
; I don't want this turning into a "diagnose my cow" thread; this is simply for information purposes only.
If you want to use any of these pictures for information purposes, please PM me for permission first. I've had several of these pictures show up in various powerpoint presentations for classes I've taken in undergrad and graduate school - you know who you are!
Thanks!
First
!!! -- Cow Parts
Leg Problems
Hoof rot or foot rot - bacterial infection between the claws, causes swelling above the hoof that can extend to the hock
Contracted tendons in a calf - can be genetic or simply caused by lack of room in utero; most cases straighten out on their own within a week or so.
"Corn" between the claws of a bull's hoof - can be caused by high grain rations
Udder Problems
Cow with only 3 working quarters (L/F is "dead") - caused by mastitis
Edema (excess fluid/swelling along the underline) in a heifer prior to calving - common in heavy milkers, it'll go away on its own
Another example in a heifer
Ligament in the udder is ruptured - these kind will occasionally be passed off as nurse cows; don't buy one like this
Another example
Another poor udder; almost no milk production from the front quarters, she also has an extra teat on one of the back quarters
Mastitis - infection within one of the quarters in the udder - needs to be treated or the cow needs to be culled; this is what mastitis looks like when the quarter is "stripped" or "milked out"
Frostbitten teats - will often result in mastitis since the teat ends have been damaged, most common in fresh heifers
Gangrene, likely as a result of clostridial or E. coli mastitis - prognosis is poor
Calving problems
Backwards calf - DOA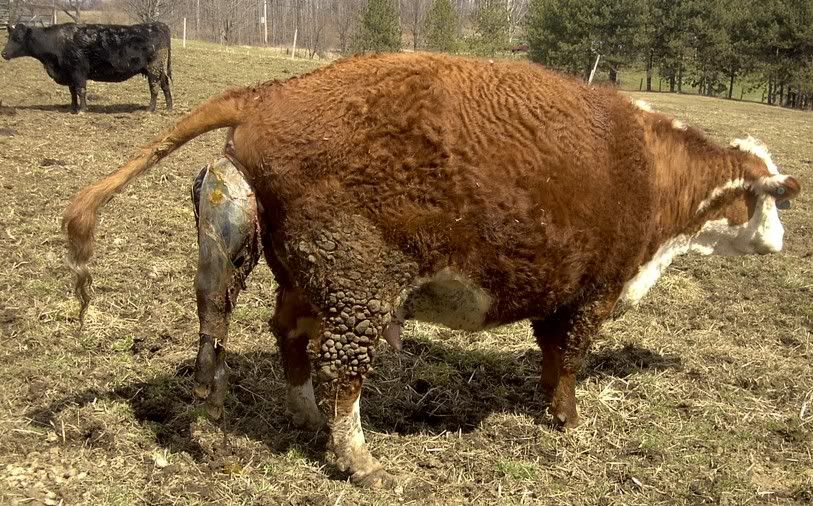 Retained placenta
Hydrops -- caused by excessive amounts of fluid in the uterus -- in this case resulted in rupture of the prepubic tendon; note left flank
Vaginal prolapse
Another example - no, she's not calving
Bull problems
"Broke" penis... the technical term is "penile hematoma"... caused by trauma.
Another one - both of these bulls recovered with 60 days rest and passed a BSE.
General bovine problems
Ringworm - it's a very contagious fungus that people, horses, dogs, cats, etc, can catch too
Warts - often seen on the ears, neck, and face, but sometimes other locations on the animal as well. Usually introduced during tattoo/tagging (note warts in ear with bangs tag/tattoo).
Warts in other locations:
Knock knees - conformation flaw
Abcess - superficial bacterial infection not in the bone
another abcess
Lumpy Jaw (actinomycosis) - bacterial infection in the bone - this is a really extreme case
Early case of lumpy jaw:
Cellulitis, inflammation of soft tissue
Wry face - believe it's genetic, conformation flaw
Cancer eye
Bottle jaw - excess fluid or swelling under the jaw - can be caused by a heavy parasite infection
BVD lesions in the mouth -- note they may or may not look like this; any oral lesions should be suspect
IBR white plaque on the underside of the tongue -- note IBR usually causes blindness and that's a typical sign
Blindness as a result of pinkeye
Infected band on a bull-now-steer calf -- good reason to give tetanus toxoid when castrating calves. However, this isn't too abnormal to see as the dead tissue separates, and shouldn't affect the health of the calf.
Hernia - can be genetic or caused by trauma - surgery fixed this one. Note the difference between this one and the braham calf below.
Weanling calf with a hernia
Mature cow with a hernia...
Ventral edema/Brisket disease/High altitude disease/Hardware disease/Congestive heart failure (impossible to say from a picture)
Another example:
Mature cow with hematoma on her back - don't lance this! the only difference between a hematoma and an abscess is a needle/knife...
Heifer with a stifle injury (eg ACL tear) -- please note this is an injury, not an infection, even though it looks like the calf below with a joint infection. Culture results revealed the difference.
DA (displaced abomasum) surgery site - can't show you a pic of a DA itself, so the surgery site will have to do. Caused by a cow going off feed and the abomasum filling with gas and flipping to the other side of the rumen. Fresh cows are particularly suceptible. RDAs can be fatal within 12 hours, LDAs can persist for 2-3 weeks or more before the cow dies if surgery is not performed.
Johnes - results in rapid weight loss and extreme emaciation even while the animal eats and acts normally. No cure and highly contagious to calves, symptoms usually don't appear until the animal is at least 2-3 years old.
Specific calf problems
Joint ill - infection in a joint in calves; for this one it's the stifle joint
Note there is a BIG difference between this calf and the stifle injury pictured up the page!!!
This calf's joint infection is in the knee
Navel ill - this is much larger than you'll normally see - caused by not dipping the calf's navel in iodine after birth or being born in an unclean environment
Crooked calf - possibly caused by the cow eating lupine while he was in utero. He physically cannot straighten his neck.
Open umbilical hernia - these can be fixed if they're caught immediately (eg not allowed to get dirty) - this calf was euthanized immediately after the picture was taken.
Dexter calf with fused teats - this is said to be genetic and the heifer would not be replacement heifer material
Scours
Dehydration -- the result of scours -- this calf is SEVERELY dehydrated. Generally dehydration isn't obvious until the animal has lost 6% of its body weight in water, and kidney damage occurs around 12% fluid loss.
Oral lump possibly "calf diphtheria" - not confirmed.
Calf with extra digits (front hooves)
Other bovine stuff that isn't a problem
"Bleed-off" - occurs 2-3 days after a cow is in standing heat
"Bangs" tag - shows the cow has been vaccinated for brucellosis; there should also be a tattoo in the right ear
"Bangs" tattoo
Vaccine lump - will disappear in time.
Braham-influenced calf - normal amount of skin at navel area. Note the difference between this and the hernia pic above
If anyone has pics of other problems, common or not-so-common, feel free to send them to me and I'll put them in this post.
Autopsy pictures are here: http://cattletoday.com/forum/viewtopic.php?f=7&t=48528
Last updated: 1/29/2013