Mentor

Posts: 10150
Joined: Mon May 02, 2005 8:28 am
Location: Central Minnesota
Has thanked: 250 times
Been thanked: 336 times
---
GURU

Posts: 5323
Joined: Sat Jul 11, 2009 7:37 am
Location: South Africa
Has thanked: 410 times
Been thanked: 342 times
That the cat & kittens are part of her family but the tom is not...just being protective I'd say. She will also pick up on your vibes. Did you welcome the tom in or shoo him away...
Few is the number who think with their own minds and feel with their own hearts. Albert Einstein
Never trouble trouble till trouble troubles you!
---
GURU

Posts: 4706
Joined: Wed Jun 10, 2015 9:21 am
Location: Winfield, KS
Has thanked: 1452 times
Been thanked: 677 times
Best Lab I ever had co-parented with one of our garage cats. Alison nailed it.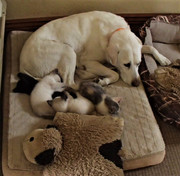 ---
Mentor

Posts: 10150
Joined: Mon May 02, 2005 8:28 am
Location: Central Minnesota
Has thanked: 250 times
Been thanked: 336 times
The wife is the viber in our family - - and she feels Tom cats are up to no good.
Stocker Steve
---
Mentor

Posts: 10384
Joined: Thu Mar 31, 2011 6:58 pm
Location: Farmersville, Texas
Has thanked: 223 times
Been thanked: 231 times
The lab knows the tom will kill every kitten so he can breed back to mama kitty. Just being protective.
I wish my brain could forget what my eyes have seen.

"If the mountain were smooth you couldn't climb it." ~ unknown
---