Well I got one to upload.
Oh my, judging by her demeanor & expression she's obviously not into photo shoots! Either that or thinking this new bloke's socks are stinky!
Seriously she's a lovely pup and looks like she'll have some sizes to her (I like some leg under them).
Really
like her breeding. Phenotypically her sire is similar to my last male (1998-2011).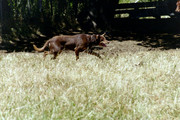 That is interesting 76 that so far away you have a connection with Karmala.
I've never communicated with Jan but I'm well aware she and Tony had a close association...much like or more so his association with my mentor Jack Woolsey. Jack was the sole person in the USA he allowed to legally use the Karrawarra prefix in his subsequent breeding program here. Not surprisingly, a handful of unscrupulous breeders tried to cash in on the notoriety.
Loved the pics you'd previously posted of Ned. Was he from Jan as well?
Geeze...apologies for turning this topic Kelpie centric!