So to feed my heifers I set a big square bale by the feed bunk and fork in the hay with a pitchfork. It takes about 4 to 5 days for them to eat a bale. Well on Monday the neighbor called wanting to know if I could feed for them while they are in Las Vegas for the NFR. So yesterday I went down for lessons on how much to feed, where, what mix, and how to run the equipment. The equipment at his place is a touch more modern than my pitchfork.
Me and my pitchfork. Actually I think this one was my Dad's from the late 30's a few handles later.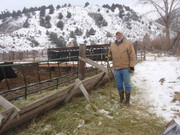 This feeds a lot more calves a lot quicker.