First calf heifer calved this morning, to AI sire SC Pay Back (flush brother to Pay The Price). Vet called bred heifer safe 30 days back in September (she ran with the bull over the summer since we were out showing and I could not get her bred). I did the math, and 30 days prior would have been a breeding date of around 8/22, and we picked up the heifer from the bull on 8/26. Bred heifer had two bouts of pneumonia treated by the vet late winter, one episode I thought we were going to lose her. She lost a bunch of weight, so I pulled her in and started her on a grain ration after the vet checked her while he was here working calves (calfhoods). Vet said her calf was very small (at that time, she was about 10 days out from her due date, end of May). He said that if he did not know us (we have no bulls around, only AI), he would have said she slipped her calf and would be due in another 30 days to the herd bull.
When we first brought her in from the field: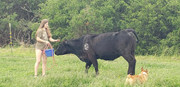 This is a few weeks after we started her on grain.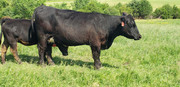 This week, two weeks after her due date of 285 days (6/3), she started putting on a nice bag. I pulled her up in the steer pen so I could watch her closely, and give her grain still. Well, she calved this morning... and boy is that calf SMALL!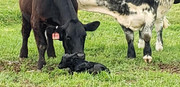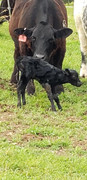 I had to put the cow in the chute to get the calf to suck, since dumb first calf heifer kept kicking that tiny thing off. Once she got ahold of that nipple, she went to town on two quarters!
Here she is, all weighed up. Care to guess her weight??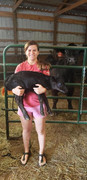 Smallest FULL term calf we have ever had. She was even two weeks late. And, this is the ONE cow I have left in a partnership with Ron. I am sending the pair back to KY when he brings out bulls for farm fest, we are going to roll the cow to fall calving since she is so late. I hope this little dink grows at least! Kids are going to call her Tiny Tina, since Tiny Tim would not work with her gender...