Long Read...
Here's a tale of 3 cows.... We are calving 400 head out, and we just got nicely started on the cow herd yesterday, with 11 calves since Midnight Mar 16.
Our protocol for cows is that if they have not made progress within 1/2 to 1 hour we get them in and check them out. This includes cows that are 'just' wandering around. Or that 'just' are acting a little off or uncomfortable. I'd rather investigate a cow that isn't doing anything, than pull a dead calf.
For heifers we give them a little longer, usually wait until 1 hour is up.
We have cameras installed in our calving pen (there's about 160 cows in there now) and in the barn. We like to check cows about every 4 hours, to make sure there are no problems.
Yesterday, we had been sorting more heavies off, and when we went down to check, after we were done sorting, we found 1 new calf and 3 more in the process of calving. One was a first calver, and she had decided she loved the new calf. One was progressing nicely, and the other had the placenta coming with the water bag.... We took the heifer to the corral and the cow to the barn.
#196,(4 PM, Mar 16) the cow that had the placenta coming with the water bag....It had only been about 2-3 hours since we had looked at the herd last, she was not actively doing anything at that time.
Let me tell you something....IF THE PLACENTA IS COMING BEFORE THE CALF.....VERY, VERY BAD!!!!!!!!! This is a BIG sign that there are problems, and very likely a super stressed or DEAD calf. If you see it, do not ask questions, get her in and get the calf out!!!!
I have no idea why she was having problems, 90 lb calf, so size shouldn't have been an issue. Calf was coming the right way...2 feet and a nose....But regardless, she was having issues, she was not, and did not push, we used the calf puller, and got him out. We were lucky, this calf was fine, and very lively, I think he couldn't wait to get out! Outcome, healthy cow, healthy calf (I've seen more dead than live calves in this scenario).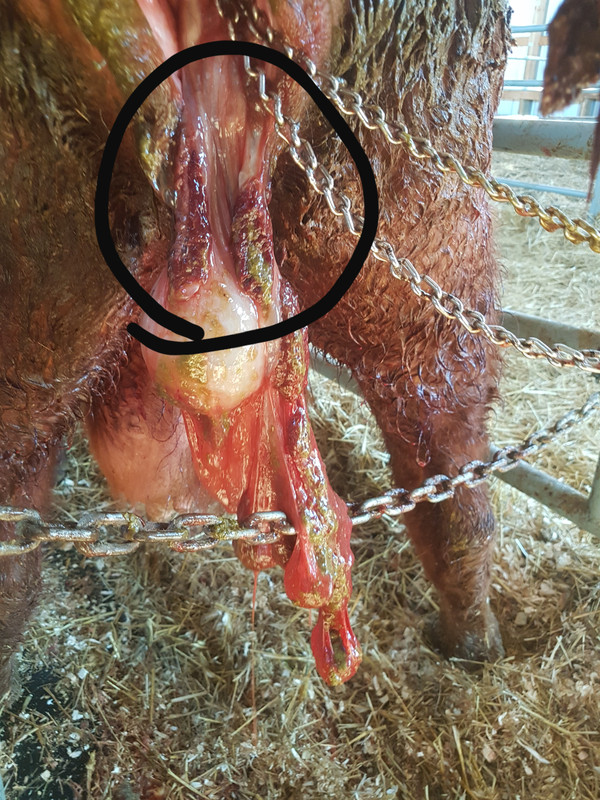 #116, (After Midnight, Mar 17) I do the last check before going to sleep, around Midnight. Then we share checks (on the camera usually) through the night. At midnight, I noticed her, water bag out, wandering around. And by that, I mean wandering enough that I had trouble keeping track of where she was. This is unusual, once the cow has the waterbag, they usually have picked the spot to have the calf, sometimes they will move, but not wander. I checked my records, to see what she was bred to...same bull as some of the heifers and those were mostly 60-70 lb calves. So, I decided to keep an eye on her, rather than go to sleep. At 1:15, she was still wandering, (and this is longer than we usually like to give them...but 1AM....) At this point, I knew there was a problem, I went out and got her into the barn, literally she walked right up and in for me. I didn't have to get DH up. Got her in the Maternity pen, checked her out, I have no idea what the problem was....2 feet and a nose...calf weighs 83 lbs, so not big....Got the chains on and tried pulling, but no luck, I am not strong enough. Got the puller on, and literally hardly had to pull, she started pushing and basically had it on her own, but the cleanings were coming with the calf, glad I didn't wait any longer. Outcome, healthy cow, healthy calf.
#219, (3 AM, Mar 17) we knew she was really close, figured it would be overnight as well. She's a 7 year old cow, never touched her before. After pulling #116 calf I wandered back through the calving pen. Just to take a last check before going to bed (1:30 AM). She is starting to calve, has the waterbag as I walk by her, she stands up. OK, that is fine, she's done this many times. Nothing else going on, so I get in just before 2 AM. Put the camera right on where she is standing there just chewing her cud, and head to bed. When DH checks, he should see her. Of course, I cannot get to sleep any ways, so @ 2:30 I get up to check, and she hasn't moved....this is unusual, but decide to wake DH, tell him what is going on and we give her another 1/2 hour. I go to sleep, she is his problem now. @3 AM she still has not calved, so he runs her up to the barn, she has an upside down calf in her. He straightens it out and pulls it. He gets in @4 AM Outcome, healthy cow, healthy calf.
This one would have very easily been a dead calf, if I hadn't walked out to look at 1:30 I would have never known she was calving, on the camera she looked like a content cow chewing her cud. She would never really have started pushing as nothing will enter the birth canal to instigate contractions. Sometimes these births will not even have the waterbag present. Breech births can be the same.