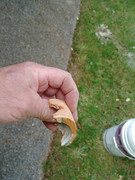 If you've ever had your but kicked by a hole saw and had to walk around like a whimpering T-rex then this might help.
The hole on this door wasn't gonna cut it, so I extended my pilot bit and clamped a piece of wood on the backside and redrilled the hole taking out this moon shaped piece of door.
FIL now has new dead bolt. And wife is happy!!