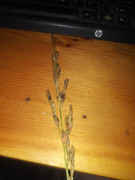 I know the conditions were good last year and the fields were hot. That and the fact that I had 69 cows new to the farm, 36 of which were first calf heifers. It wasnt a fun summer.
Finding a lot of ergot this year in the fescue. Not very excited, but I guess it will give a chance to see how culling and much improved grazing management will factor in.
For those of you not in the fescue belt. Ergot in the early stage is orangish-pink. Turning black like a mouse turd. Full range in the picture.