I unroll hay out to the larger groups and just set a roll out to small ones. I can't quantify a savings in unrolling cause there is some waste to it too, but I do believe it does save in that they have more area to eat and more cattle get an opportunity to eat. I would have to put out more rolls at time for them to all get around and it seems when I do that they vacuum it all pretty quickly and Trample a lot of it too
Saturday hay feeding while it was 60.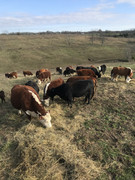 Today snow from yesterday was leaving and round 35.