We have completed our 11th National Classic this week. I am happy to be back home and having my grass cut (second cutting) for hay!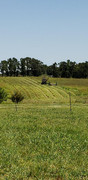 Our National Classic was long, but good. This was my last year serving as the Missouri Junior Advisor, after 6 years in the position. I needed to step down to spend more time with my family on my summers off. It was bitter sweet. My kids had a great week, rekindled friendships and made new ones. Our cattle did well in their classes, and our daughter placed in the genetic evaluation quiz (there were almost 400 junior exhibitors competing). Here are a few pictures of the week:
We had a new junior member competing this year. She wanted to try team fitting (a team of three that has to fit a heifer in 30 minutes and work as a team), so my daughter put together a team so she could compete. So, the team consisted of my daugher, my son, and Faith (new junior).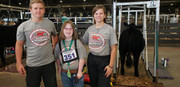 Though they did not place, they had fun trying!
My son in sales talk. In this contest, juniors must sell their heifer to the judge, and placing is based on how good of a salesmen they are!
Our daughter in Sales talk: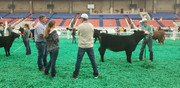 Our kids, with the help of a friend, fitting a heifer for show day: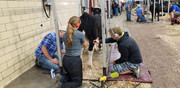 Our Declaration heifer in her class. She placed 5th out of 12 in her class. Just commented she needed to have her neck come out higher on her shoulder, but was broody and had good angles to her feet and legs.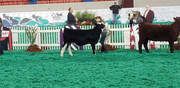 My daughter on some down time: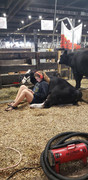 This little heifer was in raging heat on show day (16 days post her last heat!). She was bawling, and trying to ride everything! She absolutly would not stop walking in the show ring, and every time my daughter tried to get her stopped and set up, she would push forward and try to jump the heifer in front of her. She ended up 5th also, out of 11. The only thing the judge said was she had a high tail set... hard to get a good look at her when she was constantly moving!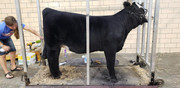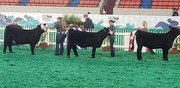 Our third heifer, a Robins Kiss, was 4th in her class. The judge said she was too fat! She is due in about 45 days to calve...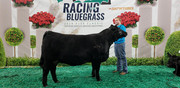 The dogs came with us...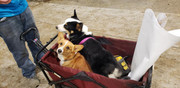 My girls were happy to see me return. These are the group on our other farm, all fall calvers. I am super excited to get the next crop of calves!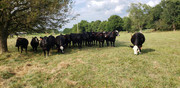 We had a blessed week, but I am happy to be back home and working on the home place. Thanks for reading!