BAR NONE RANCH...ADDING A NEW TWIST TO GELBVIEH MARKETING
Belinda H. Ary
Editor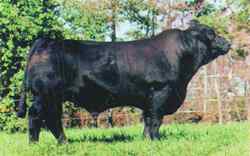 EasyJet is one of the top herd sires at Bar None Gelbvieh Ranch.
Don Estes, owner of Bar None Ranch in Marion, N.C., firmly believes the key to success in any business is marketing.
Add to that a good product and you have the successful formula Estes applies to his Gelbvieh operation.
"We have a great product," enthuses Estes. "Combine that with some creative marketing and we can really sell these cattle."
Herdsman Jimmy Christopher agrees. "Gelbvieh pack a lot of meat on a moderate frame," he says. "They also have extremely high cutablility, strong maternal traits, they milk good and are easy calvers."
But Estes says the first thing that impressed him about Gelbvieh cattle was the quality of the crosses.
After his retirement from the corporate world, Estes wanted to return to his roots in farming. He had grown up farming with his family in Kansas, and felt the need to get back to what he had enjoyed as a boy.
He purchased the property that is now home to the Bar None Ranch in September 1991 and bought his first commercial cattle in March 1992. He also picked up a Gelbvieh bull to breed to his "herd." Estes laughingly describes his initial "herd" as a group of "Heinz 57's." His plan was to continue running commercial cattle, but when he saw the Gelbvieh cross calves he was getting, he immediately became more interested in the Gelbvieh breed.
"When I saw the calves we were getting out of this 'Heinz 57' herd, I knew the Gelbvieh breed was special."
Later that year he began building his purebred herd, and by 1993, he was buying large groups of cattle, working to build one of the top Gelbvieh herds in the country.
"Because of my age, I couldn't take my time in building this herd," he explains. "So, I started gathering up the best genetics I could find as my foundation and today, we continue to build from that."
Initially, he purchased cattle from well known Gelbvieh producers across the country, including Karlebo, T Bar J and Judd Ranch in Kansas. Today, the Bar None herd consists of over 100 mother cows, with over 200 head total, including calves, heifers and bulls.
Along the way, Estes hasn't cut any corners and has continuously utilized the top genetics in his breeding program. "A good quality program means we must continuously improve," Estes says. "We all know change is inevitable, genetics change, you've got to change with it."
In an effort to keep up with the constant changes in the industry, Estes has made it a priority to add quality to his program. He currently owns a semen interest in eight of the top selling bulls in the breed, including E Square, Stonewall, Bud, Baretta, Champ, Newton and Louie. Bar None Ranch is also home to several of the top Gelbvieh herd sires including Easy Jet, First Lane, Red Royce and Marvin.
Estes has also added the best quality to his female base, purchasing ˝ interest in two of the last three National Grand Champion Females. These females, along with Ms. Nero, the top selling heifer at the most recent J-Bob Production Sale and Candy WH09, a Hayek heifer he owns ˝ interest in with J-Bob Farms, are all the foundation for the donor program they are currently building at Bar None Ranch.
Through the years, as Estes has worked on building his program, he has also placed a lot of emphasis on the second important part of his formula— creative marketing.
From his time in the corporate world, Estes says he has learned a little bit about the power of advertising and that being different is a good thing.
"You simply can't believe the creativity of those advertising guys," Estes says. "I learned that a little something different may get you noticed. No matter what product you are advertising or how you choose to deliver the message, you must have a good marketing plan."
Without question, Estes has put together one of the most unique marketing plans in the industry. His Bar None Gelbvieh logo has been on the hood of a NASCAR team's race car and he currently sponsors female driver Angie Wilson, who races in NASCAR's Goodys League.
Along with his race car sponsorship, Estes uses more conventional promotion methods to build name recognition. He has hosted field days in cooperation with the North Carolina Extension Service to introduce Gelbvieh cattle to producers who were not familiar with the breed. He also believes in advertising, and has used a very aggressive campaign to promote his operation to cattle producers, both purebred and commercial, across the country.
Recently, Estes introduced a new spokesman for his operation, "Seymour Gelbvieh," a faceless cowboy that provides new information each month about the Bar None Ranch.
"Cattle producers have a sense of humor," Estes says. "We hope that they will want to keep up with Seymour's latest words of wisdom….and while they are there, they will read the meat of the ad."
To introduce Seymour, they ran a series of teasers anticipating the arrival of their new "ranch-hand." In January while in Denver, Estes says he was bombarded with questions about his new ranch hand. "I told him they would just have to wait until next month," he laughs.
Over the years, Estes has gathered several marketing concepts that apply directly to the purebred cattle industry. "I know that with my cowherd, I won't be able to be everything to everyone," says Estes. "I am trying to determine my niche, so I don't waste time and money marketing to customers who aren't really out there."
"I am listening to my customers to determine what is taking place in the market and what they are looking for," adds Estes. "If I know my market, then breeding and marketing decisions are easier."
Estes says once a target market is identified it is easier to determine where and when to advertise. He is also able to identify which marketing efforts result in inquiries and visits to the farm.
The "niche" that Estes is working hard to fill is the commercial market in his area. Their goal this year is to sell 50 bulls off of the farm to commercial producers. To date they have enjoyed a strong demand for their bulls in several states across the Southeast.
"Our main purpose is to raise a product for the commercial man to take home and put dollars in his pocket," Christopher says.
Good customer service, before and after the sale, is another area of the utmost importance. "Because of the cost of marketing, a repeat customer is the most profitable customer," says Estes. "You need to develop a service-oriented attitude to keep customers."
"Don't tell a customer 'no'," he continues. "Find a way to make the situation work for you and the buyer. A successful transaction involves a satisfied buyer and a satisfied seller."