In loving memory of Jay Nixon 1936-1999
Belinda Hood Ary
Editor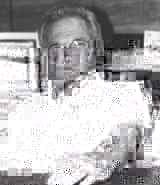 On October 20, 1999 the cattle industry lost a great friend, James "Jay" Edward Nixon, III.
Born in the South Texas town of Alice, Jay grew up working cattle in the brush country along the Rio Grande River. Upon completing his degree in journalism from the University of Texas, he spent a short time in the newspaper business, but quickly returned to his first love, the cattle business. He spent most of his adult life promoting cattle and pioneered the use of modern advertising and PR techniques in the marketing of beef cattle. But, without question, one of his greatest gifts was bringing life to the written word.
Jay first approached me in 1994 about publishing a series of marketing articles, a precursor to his now popular book, Cowboy Marketing. We were thrilled to have someone with Jay's background contribute to our publication. That first marketing series received rave reviews from our readers, so we asked Jay to become a regular columnist in CATTLE TODAY.
I can honestly say that was definitely one of the best decisions I have ever made.
Through the years, Jay has covered topics from marketing, to bull selection to herd management. He always provided us with a timely look at the issues facing producers, adding just a dash of humor to keep us hooked.
He also added a little fun when he gave us a glimpse back into his past, reliving some of his treasured childhood memories from his days in the brush country of South Texas. Some of my favorites include the tale of Jessie Trotter roping the buffalo on the streets of his hometown, and the great Dominecker Incident, a hilarious account of his personal run in with his uncle's rooster. Jay also loved the history of the Old West and enjoyed sharing some of his favorite stories about such notorious outlaws as Jessie James and John Wesley Hardin.
Jay's passing leaves a huge hole in all of our hearts. We will miss his wisdom, his humor and his love for live. His contributions to CATTLE TODAY are immeasurable and it will be impossible to fill the void his death has left.
All we can say is thank you so much for sharing your god-given talent with us, Jay. Your gift was unique and we are sure we will not see your equal in this lifetime.
Rest in peace, dear friend.
As a tribute to Jay, I asked several of his friends and co-workers to share some of their memories with our readers. The following comments come from some of those in the industry who knew him best.
---------------------------------------------------------------------
I've known Jay Nixon for 30 years, from the time we started at the American Polled Hereford Assn., and then working together again when he started The Outfit, to just here recently on several marketing projects.
In all those years I really got to know Jay and his family, and his humor and ability. I really respected Jay for his ability and talent, but most of all , I respected his friendship.
It was once said "Good men have the fewest fears." Jay was a good man and not afraid to make changes when it came to marketing cattle. Cattlemen, I remember, would tell him this is the way it's been done or that won't work, or this won't work. Jay would just simply look at them with that smirk or grin and say "That's why I need to do your marketing."
Jay was as good as it gets in analyzing a ranching operation. He would build and structure a story about the history, present, and future of the ranch. Then build an ad campaign on the high points, organize, and book or contract the space in publications for the next twelve months.
Jay brought on a new era in marketing livestock. Not only did he bring market identity to his clients, he added market value to their cattle. Many people tried to copy Jay's work, but I don't think that they ever matched his work, they didn't have his touch.
Jay became known for his marketing and editorial ability. His clients ranged ftom major breed associations to countless major ranches from all over the country. Just to mention one, King Ranch, for example, among many more.
Jay never signed or put his name on the ads or pictures, but everyone knew who did them just by looking at the ad, THEY KNEW.
They say sometimes you don't know what you have until it's been taken away. Jay has been taken away from us, this business and his friends are going to miss him, Rest in Peace Jay.
Your friend,
Ken York
Marshall, Texas
-------------------------------------------------------------------------
Jay Nixon and I were friends for over 30 years. We worked together on The Oklahoma Cowman in Oklahoma City. Jay had written a story for the magazine about a cowboy who tries to rope a buffalo calf. I think it really explained the attitude and drive of Jay's direction in life.
I asked him once why he just didn't write. He said once you've had the smell of burning pear up your nose you have to be in the cow business . . and a cowman he was because he understood the problems, and still loved the cattle business.
Jay and I worked together at The American Polled Hereford Association. He was very innovative and unforgettable if you ever met him. I think he felt stifled by committees and bylaws. He wanted to do so much more creatively so he moved on.
Jay ended up in Texas where he started his own marketing agency. It became The Outfit ... a leader in cattle advertising and marketing that really cut new trails for the industry. Jay never forgot his friends. Many of us from the Polled Hereford Association joined him for the exciting wild ride during the height of the cattle business. He became the P.T. Barnum of marketing for almost the top breeder in every breed. He truly was a pioneer in the field.
Jay wrote a book in 1996 and ask me to illustrate it. It was called Cowboy Marketing and he put in that book everything (well, not everything) he had learned in his life to pass on the future cattlemen.
Here is a quote from that book.
"Back when Charles Goodnight, Shanghai Pierce, Captain King and John Wayne innovated the cattle marketing system in this country by heading their steers north over a thousand miles of trail, they set precedent for all of us to follow them."
Jay Nixon set a precedent too... so add his name to the list.
Don Smith
Arlington, Texas
-------------------------------------------------------------------------
Jay Nixon
Words that come to mind are enthusiasm, optimisum, forward thinker, thought provoker, loving father and husband. One of the best thinkers and writers of his day, Jay was a longtime friend and business partner.What ever Jay wrote was with conviction and a true dedication to the livestock industry. His book, Cowboy Livestock Marketing, is a must read for all producers interested in improving their bottom line. He will be missed by the industry and most importantly his longtime friends and family.
Bob Vantrease, President
Flying H, New Mexico
-------------------------------------------------------------------------
One of my favorite Jay Nixon stories…
When Jay and I worked for the Harrell Cattle Company we had lots of fun. Jay was in charge of our extensive advertising program and he was super. I was general manager of our registered beefmaster division.
I used to tell people Jay can get the folks here and I will sell them something.
When we went into a new program in 1980, Jay came in January to our office to discuss the cost and the entire program.
After Jay and I had had our coffee and conversation in my office we were summoned to Mr. Wallace Harrell's office.
Jay made a great presentation to Mr. Wallace and Maurice Harrell. The four of us sat through it all and were all amazed at the depth and effort and could imagine the results of such an undertaking.
As Jay concluded his presentation, he presented his costs. Wallace sat there for along while and then he let Jay have it. Boy he was upset. I was sure that he was going to kill me and Jay and maybe my wife and first born. He was really mad.
He explained to Jay and myself that Harrell Cattle Company was not made of money and this program was just too costly. If we were to even consider such an extensive program it would have to be modified.
Jay sat there and took it like a gentleman. Never said a word. I wanted to just crawl into a hole and hide until Wallace was in a better mood. Jay never even flinched.
The room got quiet for what seemed an eternity and Jay said "Well Wallace you and I never have agreed on prices."
Wallace snorted, and said "That is for damn sure." "Let's got ahead with the program just as outlined."
The result: we sold $9,000,000 worth of cattle that year.
Yes, Jay Nixon was the very best at what he did. He was my friend and a great person to know, to travel with, to be on a program with, but the best thing about him was his unfailing friendship to me and our entire industry.
We will all miss him.....
Gary Cross
Bryan, Texas
-------------------------------------------------------------------------
Jay Nixon was one of those writers that other writers read twice – once for sheer pleasure and a second time to see how he did it.
Jay wrote with a down-home conversational style that belied his impeccable technical skill. His deftly painted word pictures put the reader right in the middle of the story; he was enjoying himself, and his readers did too. He backed up that laid-back style with an exceptional grasp of the cattle industry and what makes it tick, meticulous research and a keen analytical eye.
I've been "adopting elements" of Jay's style for 30 years. His was a rare voice that will be missed.
Susan Wagner,
The Cattlemen Magazine
Fort Worth, Texas
-------------------------------------------------------------------------
To Jay,
Once you wrote an article saying you felt like Diogenes of old, lantern in hand, going around the countryside looking for an honest man, except you were looking for an honest sire breed. Like you, I felt the same way except I was looking for an honest friend. My search was over when I met you, only too soon to lose you. Before I met you, I would thrill over getting your articles in Cattle Today, and shared your learned viewpoints on almost every subject. You were one of the most talented writers in the country, combining your considerable cattle knowledge and experience with fresh wit and clarity on subjects everyone would read with great interest. I never saw you get shaken or visibly mad even when you might have had a good reason. You were forever the ambassador, the peacemaker, the arbitrator, and you helped me to look on the brighter side of most issues. Carlton and I marveled at how close you and Lou Eda were ... true soul mates .. a loving husband and always concerned with the needs of your family. Karnes City will not be the same without you. For many years you chronicled the history and events of your community as well as the State of Texas. You were woven into the everyday life and folk of your town. Your insights and talents in the cattle business will be sorely and sadly missed. The articles you wrote brought clarity and common sense to a bewildered and confused cattle industry, and the lessons I learned from you will not beforgotten. I only wish I had time to say goodbye, but I'm glad that you always knew how much you meant to Carlton and me. I'm looking forward to seeing you again though, and I don't think it will be too long. You'll be the one in the new earth keeping track of events around the kingdom and universe, and telling the rest of us about it in a way that we'll be hanging on every word. I'll be looking for you in the big crowd that's praising the Lord!
Your friend forever,
Nancy Laxton
Paris Landing, Tennessee
Editor's Note: Cards of sympathy can be sent to Jay's wife, Lou Eda, at 302 East Buchel Ave., Karnes City, Texas 78118 or e-mail: cowmark@fnichols.com